Do you dread cleaning the bathtub that no one in your house actually takes a bath in? Has stepping in and out of a bathtub become gradually more difficult?
Our standard tub to shower conversion allows us to remove your bathtub and replace it with a large shower base. You will now experience the ease of stepping in and out of the shower with no worry of falling. Our shower bases are made of durable acrylic and come with a slip proof floor. Available in two different heights, as well as different colours, a tub to shower conversion will look great in any bathroom.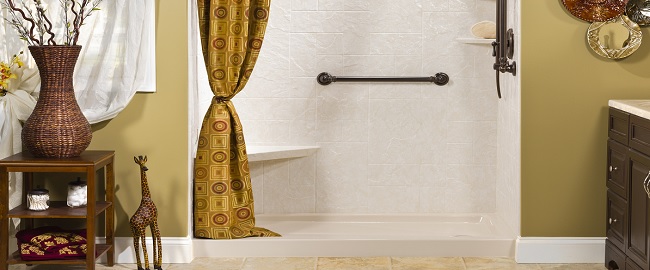 Facts about Bathtub to Shower Conversions
A great choice for individuals who prefer the extra space of a large shower.
An affordable solution when compared to more expensive walk-in bathtubs.
Elderly or physically challenged customers enjoy a safer bathroom environment, helping them to live a more independent lifestyle.
Available in 4″ and 7″ threshold depths.
All of these processes can be done in one day!
Look great with a new set of walls.